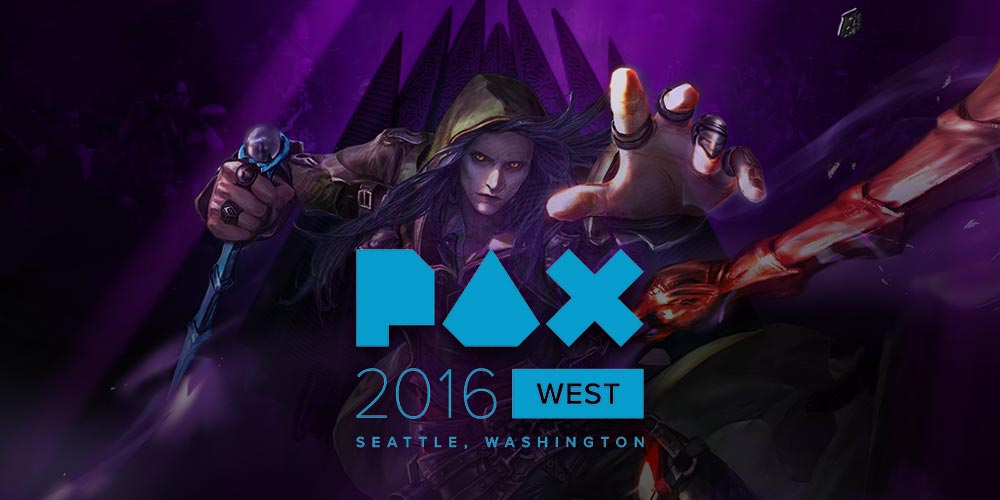 Super Evil Megacorp is coming to Seattle! We are excited to announce the North American Summer Live Championships and our participation in PAX West 2016. From Sept. 2-5, the Super Evil Team will be joining Twitch's booth on the convention floor. Drop by to say hi to Vainglory's developers and streamers, and then join us at the North America Summer Live Championships hosted just down the street at Amazon's HQ!
---
PAX Details & Fun:
Unlock the Summer Party Phinn skin at our booth!
Sign up to get our newest hero, Samuel, for free!
The first 50 people at the Twitch booth each day will get a Vainglory drawstring bag.
Find our Lyra cosplayer, tweet a picture with her with the hashtag #VaingloryPAX16 to win a Vainglory shirt.
Tweet #VaingloryPAX16 for a chance to win ICE and prizes!
Meet the devs: Zekent, PlayoffBeard, EvilFinn, ReadyPlayer1, TheRealKrul and streamers ShinKaigan, WattieX, unseenoutlaw and Cr4zyDoc.
Your PAX badge includes free entrance to the NA Summer Live Championships, or tickets are available to the championships independently on Eventbrite, for $5!
---
PAX WEST LIVESTREAMS
Live from the booth! Tune in to twitch.tv/vainglory:
10 – 11AM PDT Friday, Sunday and Monday. We'll be talking about the newest updates, upcoming features, Vainglory esports and many other exciting things.
Live from the Twitch stage! Tune in to twitch.tv/twitch for fun times with our community, devs and players! All times PDT.
DETAILS
Friday, Sept. 2 at 3-4 PM: What is Vainglory? Intro to the game and its mechanics
Saturday, Sept. 3 at 10-11 AM: Devs vs. Community – PAX West Edition
Sunday Sept. 4 at 3-4 PM: Salty Sweet – Eliminated teams get revenge!
---
VAINGLORY ESPORTS PANEL
Panel hosted by PlayoffBeard at the Wyvern Theatre:
Monday, Sept. 5 at 3 PM: Join PlayoffBeard as he hosts a panel of FlashX (TSM), SuiJeneris (Hammers esports) and Xinyi (Vainglory broadcast analyst and competitive player) to discuss what it takes to become a touchscreen esports star.
---
2016 SUMMER LIVE CHAMPIONSHIPS – 'BATTLE IN SEATTLE'
Join us for the season-ending championship as the top eight teams in North America compete live on twitch.tv/vainglory.
PAX ticket gives players free access to the event.
Hosted by Amazon HQ — a five minute walk from PAX

Amazon Meeting Center – 2031 7th Ave. Seattle, WA 98121
---
Friday, Sept. 2:
Livestream only – no live audience
4 PM PDT: Livestream begins! First-round matchups
---
Saturday, Sept. 3:
1 PM PDT: Doors open
2 PM PDT: Livestream starts! Elimination Day!
---
Sunday, Sept. 4:
3 PM PDT: Doors open
4 PM PDT: Livestream starts! Semifinals & Grand Finals
---
MEET THE TEAMS
Cheer for the best eight teams in the region, and participate in "meet & greets" with your favorite teams, players & Vainglory developers.
Get merch
Get daily SWAG
Meet devs!
Get tickets here.
---
We can't wait to get out to Seattle and meet everyone! Be sure to stop by and say hello to the Super Evil Team and cheer on the competitors at the 2016 Summer Live Championships!