What did Lyra want to be when she grew up? 'Dear Diary' Lyra gives you a secret glimpse into the early dreams of Vainglory's dangerous Gythian mage.
---
CHECK OUT HER IN-GAME FOOTAGE & 3D MODEL: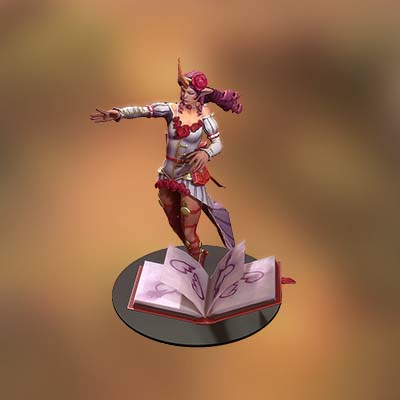 SKIN HIGHLIGHTS:
MODEL CHANGES
Super-rare unicorn horn!
Pink party dress with red roses and ribbons
EFFECTS CHANGES
Magic runes transformed into hearts for allies, broken hearts for enemies
Arcane missiles look like hearts and arrows
Ultra-pretty rainbow bridge portals
---
ALTERNATE FATE LORE
Dear Diary,
Everything is AMAZING because it's my tenth birthday! I'm sad that my horn hasn't grown out yet. Most of my family have antlers so they say I will also grow antlers but I think when I grow up I'll have one of the super-rare unicorn horns because I am the very best in my family at magic.
I got to wear my party dress today, the pink one with the satin roses and ribbons. Every other day, I have to wear the mage academy uniform. I like the academy but the uniform is plain black. Today I had a party and cake and I even danced once with Titus, the cutest boy at the academy.
When I grow up, I'll wear my party dresses every day, except they'll have real roses instead of satin ones, and pretty shoes for dancing. I'll be the best Battlemage in the Mage Guild, maybe the world! I'll defeat Gythia's enemies with rainbows and love magic because Titus will be my husband. He acts like he doesn't like me just because I'm not Mageborn and he is but when we're grownups and in love that won't matter at all.
When I grow up, I'm going to have the best life, and I promise I'll never go anywhere without you, Dear Diary.
Love,
Lyra
---
CANON LYRA LORE:
The Consequence and The Inception
The First Mistake
---